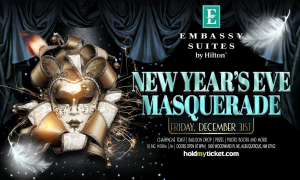 Bring in 2022 in style at Embassy Suites for the "New Years 
Masquerade
" sponsored by DLM Collision.
Enjoy the 
champagne
 toast at midnight as the 
balloons drop and the music pops to ring in the new year.
Dance 2021 away with "DJ Worm" with thousands in prizes up for grabs.
Make some memories in the photo booth and book a room for the night.